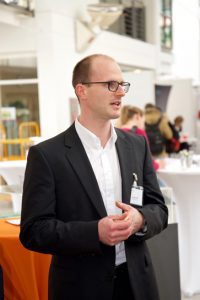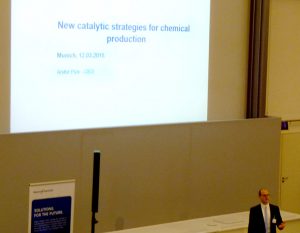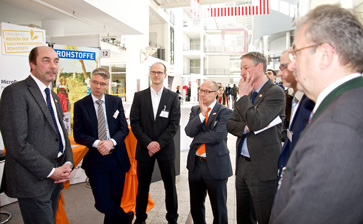 From 11th to 12th of March we had our first trade show participation on the Forum Life Science 2015 in Munich.
This international Congress with an associated trade show took place this year for the ninth time and is organized in close cooperation with the Bayern Innovativ GmbH and the Bayerischen Staatsministeriums für Wirtschaft und Medien, Energie und Technologie.
It takes place every two years at the faculty of mechanical engineering of the TU München at Garching campus. It offers a panel for an intersectional network of companies, researchers and supporting organizations in the field of life science, nutrition, pharmacology, chemistry material science, energy, medicinal technologies and biotechnology.
For the first time CASCAT had the chance to present itself under the umbrella of the collaborative booth of the BioCampus Straubing. Following the Motto "Straubing - we start up" the complete start-up scene of Straubing was gathered. Compared with the inhabitants it was obvious that Straubing has an intensive funding mentality in the region of the renewable resources to act in the field of the upcoming bioeconomy. This was also mentioned by the Straubing major Markus Pannermayr and the Straubing district administrator Josef Laumer at their visit at the booth. They promised by their visit, that they will further "sweeten" the conditions for start-up companies in Straubing.
The definite highlight for CASCAT was the 5-minute Elevator-Pitch, which was hold by André Pick to explain our strategy of process development to the audience based on our most prominent proprietary example of enzymatic reaction cascade from glucose towards 1,4-Butandiol. The very intensive discussions after the talk were a clear indicator for our innovative approach and encouraged us to follow our principle. We expect further cooperation as initiated by these communications.
Fotos: © teamElgato; © Dominik Schwarz